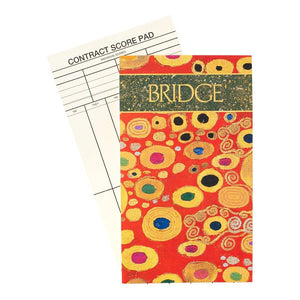 Bridge is a card game of advanced skill, which has origins dating back to the 19th and 20 centuries. Designed for group play, this game is played by four people in two pairs. A lovely accent for any room, bridge encourages conversation and friendly competition among new and old friends. Our beautiful Bridge Score Pads feature artwork and designs created by artist and sourced from museums around the world. They're a perfect idea for your next hostess gift or addition to your bridge party. Each beautiful bridge score pad includes 39 pages.
Contract Bridge scoring rules on inner cover.
Our Swiss printer, Graphische Anstalt J.E Wolfensberger AG, is an FSC-certified printer.
1 Score Pad
7.25" x 4.25"
Our score pads feature designs to coordinate with playing cards and tallies
In this Design: Gustav Klimt, an Austrian symbolist painter, was well known for his creation of elaborate pattern and use of gold leaf. This pattern, a detail of his painting Hope, II, highlights the intricacy of his ornate decorations.