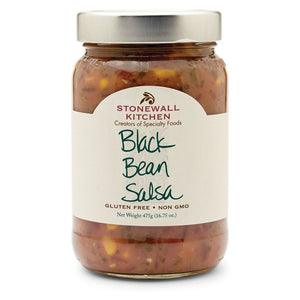 Black Bean Salsa gives this classic Southwestern specialty a Northeast twist. It is a zesty salsa with delicious flavor combinations that will enhance burritos or quesadillas, add excitement to grilled fish or chicken and is wonderful served simply with tortilla chips.
Suggested Uses: A great addition to any recipe or enjoyed straight from the jar.
Weight: 16.75 oz.
Ingredients: Black Beans, Tomatoes (tomato juice, citric acid, calcium chloride), Whole Kernel Corn, Water, Jalapenos, Onions, Tomato Paste, Cilantro, Lime Juice Concentrate, Sugar, Salt, Garlic.
Gluten Status: Non-Gluten Ingredients