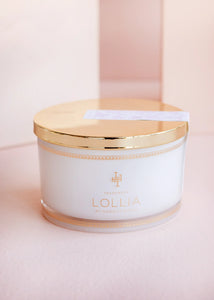 Fragrance Notes
Lavender & Honey

A rich exotic blend of fresh Lavender, Bee Blossom Honey with White Orchids and warm, woody undertones of Indian Amber delicately completed with a touch of Tahitian Vanilla.
Description
Embrace an elegant escape. Melt your worries away with a luxurious sea salt soak that's delightfully fragranced & richly relaxing. Soothing the senses with uplifting notes of Lavender, Honey, and Tahitian Vanilla, this blissful bath time retreat leaves skin silky soft and the mind rejuvenated.
Design Details
Gold accents and a reflective lid add brilliant shine to this gorgeous glass jar and tub-side keepsake. Inside, a delicate linen drawstring bag holds the luxurious sea salt soak. Dig in with an elegant gold spoon and drift off into a state of bliss. Makes a lovely gift for yourself and others.
Dimensions
5-5/16" DIA X 3-1/4" H